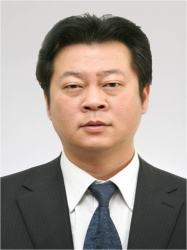 Wei Lu , M.D., Ph.D.
Party Secretary
Degrees

M.D. Tianjin Medical University
Major Previous Appointments
2008.12-2019.1 President, Tianjin Second People's Hospital
2014.6-2019.1 Party Secretary and Vice President,
Tianjin First Central Hospital;
2019.1-present Party Secretary,
Tianjin Medical University Cancer Institute and Hospital
Basic and clinical research of prevention, diagnosis and therapy of Liver Cancer
Basic and clinical research of digestive diseases
Major publications
1. Relationship of Treg/Th17 balance with HBeAg change in HBeAg-positive chronic hepatitis B patients receiving telbivudine antiviral treatment A longitudinal observational study. Medicine.2017.96(23):7064.
2. A comparison of hepatic steatosis index,controlled attenuation parameter and ultrasound as noninvasive diagnostic tools for steatosis in chronic hepatitis B. Dig Liver Dis. 2017.49:910-917
3. Clinical efficacy of tenofovir and entecavir in the treatment of chronic hepatitis B infection in patients naive to nucleosides and their analogues therapy. International Journal of Clinical and Experimental Medicine. 2017.10(8):12329-12335.
4. Chloroquine sensitizes hepatocellular carcinoma cells to chemotherapy via blocking autophagyand promoting mitochondrial dysfunction. Int J Clin Exp Pathol. 2017.10(9):10056-10065.
5. High-powered microwave ablation of larger hepatocellular carcinoma: evaluation ofrecurrence rate and factors related to recurrence. Clinical Radiology. 2015.70 (2015) 1237-1243.
6. Antiviral therapy improves outcomes in patients with small hepatocellular carcinoma and chronic hepatitis C virus infection treated with RFA. Journal of hepatology(spl).2014.