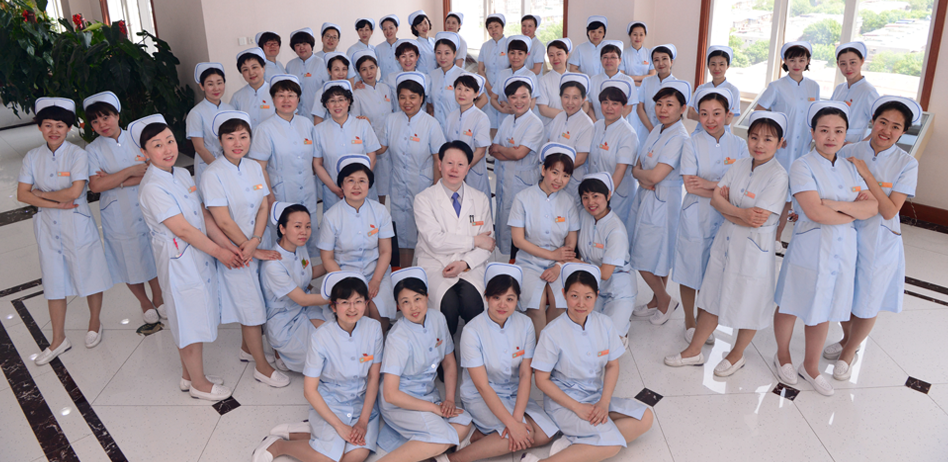 Nursing in Tianjin Medical University Cancer Institute & Hospital has a long history. Over the years, nursing staff from generation to generation have insisted on helping patients with love and professional knowledge in the spirit of Nightingale. With the persistent development and innovation, nursing in our hospital becomes more and more professional and internationalized.
At present, there are 1360 nurses. 83% of whom have a bachelor degree or above, 31 with a master's degree or above, 4 have acted as master's tutors, 25 have a part-time academic position at provincial or municipal level or above. We have 9 drug research nurses trained and certified by the United States Center for Clinical Drug Research, 9 JBI Evidence-Based Nurses, 338 clinical certified specialist nurses.
In the 1990s, "Humanistic Care,Warmest Service" became the service concept of cancer care in our hospital. We have incorporated the belief of "Patients' Needs first,and have embraced the concept of holism which embodies humanity and individualization, to provide a "Whole-course, whole-person, whole-family and whole-team" nursing mode for patients and patients' family.We also embrace the concept of Evidence based Nursing.
We have focused on applying research findings into clinical practice to benefit the patients. We have completed nursing research about Quality of Life (QOL) in cancer patients in cooperation with M.D. Anderson Cancer Center, Israel Hadassah Medical Center, and Chinese University of Hong Kong. Our research projects have gained 41 provincial and municipal funding awards and 11 state-level patents. We have had 400 papers published in nursing core periodicals and, up to now, 5 professional books have been published.. As the chairperson team of the Oncological Nursing Committee of the Chinese Anti-Cancer Association, we advocate and lead the development of clinical practice guidelines for symptom management in cancer patient.
We keep open to outside world, and have invited experts from USA and New Zealand and other countries to give lectures on topics of patient education, evidence-based nursing, palliative care and so on for over 32 times. We also found a solid long-time collaborative relationship with many familiar cancer centers such as M.D Anderson Cancer Center, Moffit Cancer Center, Showa University Hospital in Japan.
We always identify the unique gifting of each nurse, and try to match them to different positions which suit their talents We also formulate a whole career development plan for various levels of nurse to insure that they can better realize their potential. 75 nursing staff have been sent to the United States, Japan, South Korea, Singapore, Hong Kong and Taiwan for training. About 100 nurses have had the chance to share their research results at different levels of conferences home and abroad. We have won the Post Training and Technical Competition of Tianjin Medical Care System campaign 3 times, and the champion award at the First Aid Skill Competition held by Tianjin Nursing Association in 2017.