Intravenous Therapy Team
Our hospital has spearheaded the technique of deep subclavian vein catheterization since the late 1970s culminating in the establishment of the central venous catheterization team in 1996. After a decade of development, we established the intravenous therapy (IV)team in 2008 and a central venous catheter outpatient maintenance center in the outpatient department in 2009. Since then, we have established the training center for vascular access in North China in 2011, a multidisciplinary venous treatment team in 2014, and a vascular access catheterization and maintenance center in 2019.
Memberships
Group leader:Huiying Wang
Deputy leader: Yang Wang
Group members: Fengqi Dong , Xueling Ma , Yongsheng Sha , Lixia Feng, Peng Li , Guoyuan Li, Qing Wang , Jing Chen , Dongjun Liu , Yuhong Chen, Xuan Yang and more than 40 intravenous nurses in each departments.
Activities and achievements:
With the goal of safe infusion, we have standardized the treatment technology of intravenous infusion in our hospital and implemented a system of consultation for difficult cases inside and outside hospital. In addition we have integrated teaching, management, quality control and scientific research to fully serve the clinical areas, bringing MDT multi-team cooperation into full play, and promoting the professional development of vascular access.
Intravenous therapy is an important part of clinical treatment, being related to the life and well-being of patients. Based on the importance of venous therapy, our venous specialty group has carried out systematic training throughout the hospital to ensure that venous therapy is unified, standardized and evidence based. In addition, we have focused on training for nursing staff to prevent and manage intravenous therapy complications and organized expert consultation and multi-disciplinary joint consultations, solve the difficult intravenous therapy problems, and achieve the goal of "safe infusion" in our hospital. At the same time, we are exploreing new developments in venous therapy to ensure the continuous improvement of the quality, and keep abreast of the international developments in venous therapy We aim to be at the cutting edge of international venous therapy to ensure that in our hospital it is always at the highest level.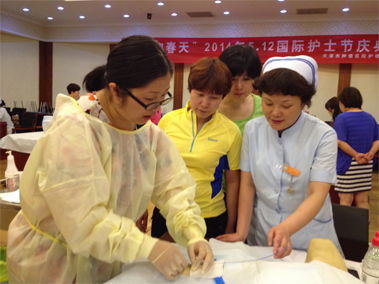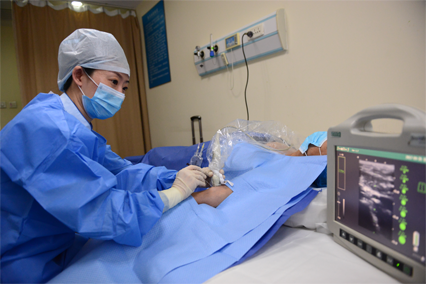 Within the environment of standardized and safe venous treatment in our hospital, excellent nurses show their competence and proficiency in venous treatment. The Venous Professional Group members have participated in many competitions such as the "Road Cup" for the most proficient vascular access and achieved excellent results. They have actively participated in high level venous therapy conferences at home and abroad to learn from each other's strengths and weaknesses. In addition, we have frequently been invited to lecture all over the country on intravenous therapy.
Since 2008, as the PICC training base in North China, our hospital has completed the training of PICC basic, middle and advanced training courses every year. At the same time, as a training base for intensive care nurses in Tianjin, assisted the Tianjin Nursing Quality Control Center to complete the training and qualification certification of intravenous therapy specialists, and promote the development of intravenous treatment in Tianjin and throughout the whole country.