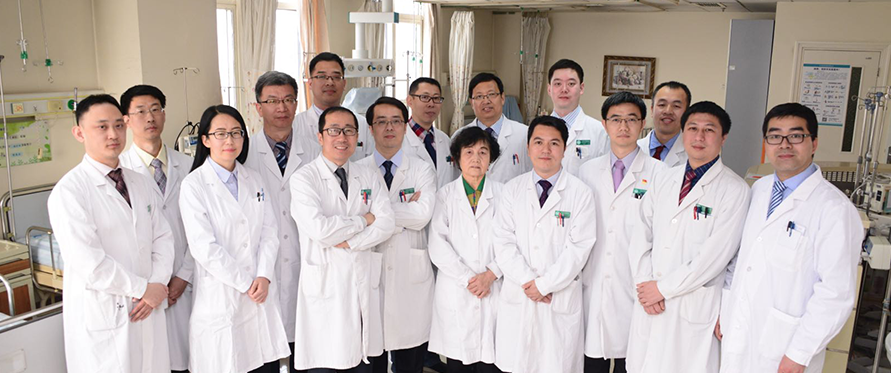 The Department of Gastric Surgery of Tianjin Medical University Cancer Institute and Hospital, whose predecessor was the Department of Abdominal Surgical Oncology founded by the late distinguished tumor expert, Professor Jin Xianzhai in 1972, was established as an independent department and renamed as such in 2004 as a result of disciplinary specialization. The department, with 69 assigned beds and a faculty of 17 doctors, including 6 attendings, 6 fellows and 5 residents, of whom 90% are medical doctoral degree holders, provides surgical treatments of a wide range of gastric diseases such as gastric cancer, gastrointestinal stromal tumors (GISTs), peritoneal neoplasm and retroperitoneal neoplasm etc.
The department, composed of a team of first-class surgeons specializing in gastro-intestinal tumors, is renowned for its clinical expertise and excellent surgical techniques and enjoys a fine reputation both home and abroad, therefore attracting numerous patients from Tianjin and other provinces. The quantity and quality of operations performed by the department has been rising continually every year. In 2018, the number of outpatients reached 21624 and that of discharged patients, 3283; meanwhile 1015 operations were performed and 84.15% of them were on gastric cancer patients. The surgical treatment of gastric cancer of our department attaches importance to standard D2 radical resection with standard lymph node dissection, which not only increases greatly the survival rate but also promotes the accuracy of pathological stage of gastric cancer, hence provides better prognosis and suitable comprehensive therapeutic plans after the surgery. Therefore, our department has been taking a leading role in gastric cancer treatment and its prognosis and participating in setting the criteria of standardized gastric cancer treatment. The department has a unique advantage in the field of digestive tract reconstruction. It adopts the standard B-I, B-II, Roux-en-Y and explores new means of rebuilding the digestive tract as well. In 2011, our department undertook a major national research project, "A Clinical Study into the Effect of Different Means of Reconstructing Digestive Tract on Improving the Patients' Life Quality After the Surgeries of Total Gastrectomy", which compares Roux-en-Y and functional jejunal interposition (FJI) and their effects on long-term postoperative complications and life quality of the patients who have received such surgeries. For gastric cancer patients of early stages, we advocate minimally invasive (laparoscopic and Da Vinci) surgery in order to reduce perioperative complications, and have achieved favorable results; for patients of advanced stages, neoadjuvant chemotherapies are adopted to improve the surgical resection and 5-year survival rates. For patients with peritoneal metastasis or the risk of tumor peritoneal dissemination, peritoneal thermal perfusion chemotherapies have been carried out earlier than other institutions in China to prevent and treat the peritoneal spread of advanced gastric cancer, and have achieved satisfactory results. In the treatment of patients with gastrointestinal stromal tumor, the advantages of the combined treatment of operation and postoperative targeted drugs are emphasized, and patients are encouraged to have regular postoperative review to find the drug resistance timely, and adjust the treatment plan in time to obtain satisfactory treatment effect. Specializing in gastric cancer and the relevant expertise, we are also capable of performing difficult and complicated surgeries with satisfactory results.
In recent years, our department has made it a regular practice to hold the Multiple Disciplinary Team (MDT) symposium, which invites experts from departments of surgery, pathology, oncology, radiology etc., to meet bi-weekly on Thursday and join in discussions about patients' diseases and their conditions so that the most pertinent treatment strategies can be adopted according to each individual patient's medical condition and therefore it can ensure that every gastric cancer patient receives the best individualized treatment possible.
Besides the surgeries and other clinical work, the Department of Gastric Surgery has also been engaged in clinical and fundamental research related to gastric cancer. We have established long-term collaboration with Massachusetts General Hospital of Harvard University, and Cancer Institute Hospital of JFCR, Seoul National University Hospital, Yonsei University of Korea and Institute of Digestive Disease of The Chinese University of Hong Kong. Meanwhile, our department has undertaken research projects of various levels, including 1 National 973 Project, 1 National Natural Sciences Project, 3 provincial research projects, 1 key Tianjin anti-cancer research project, 4 institutional projects and 7 hospital projects. In addition, 221 research papers completed by our department have been published, among which 104 are in SCI journals, 93 in Chinese Medical Journal Series, 24 in key Chinese journals, with the impact factor reaching 18.38 at its best. In 2018, 361 cases were involved in various clinical researches, accounting for 31.6% of all surgeries. Our department graduates 3-4 students with master's degree annually and so far has graduated more than 40 students in total. Besides, our department hosts the interns of Tianjin Medical University and offers training and teaching to the 7-year students of Tianjin Medical University as well as the surgeons from other provinces for further learning. Moreover, we have participated in writing, compiling and translating a dozen of monographs including Gastric Cancer, Visual Lectures on Operation for Gastric Cancer, Principles and Practice of Gastrointestinal Oncology, Basic Clinical Surgery, Abdominal Oncology, Surgical Oncology, Oncology, Concise Oncology, all of which have been published, and among which, Visual Lectures on Operation for Gastric Cancer has been included in a series of academic monographs on the 30th anniversary of the Chinese anti-cancer association.
Our department has been involved actively in academic exchanges with peers from both China and other countries. Sino-Japan-Korea Gastric Cancer Submit hosted by our department has become a well-known brand conference on gastric cancer and the clinical work and research results have been recognized and applauded both domestically and internationally.