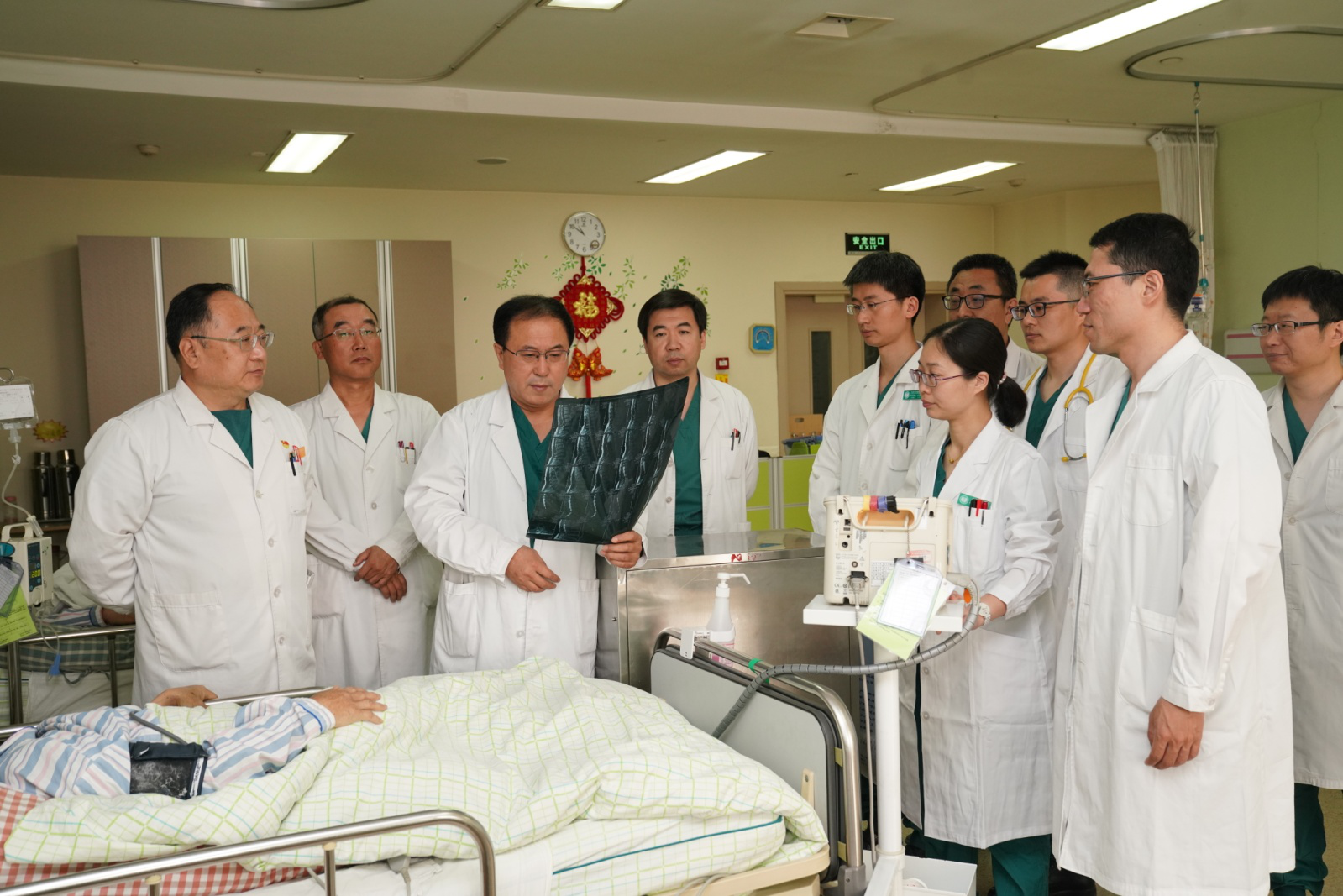 General Introduction
The department of neurosurgery and neuro-oncology in Tianjin medical university cancer institute and hospital, was established in May, 1999. It is a diagnosis and treatment center for nervous system tumors including surgical operation, stereotactic radiosurgery, tumor chemotherapy, interventional therapy and other treatment methods. The department has advanced diagnostic and treatment equipment, such as neurosurgery microscope, neuroendoscope, neuroelectrophysiological monitor, stereotactic surgical positioning and navigation equipment, and Cyberknife. The Neuro-surgery Department is characterized by the treatment of intracranial and extracranial communication tumor, brain stem tumor and comprehensive treatment of brain malignant tumor.
Faculty / Staff
At present, there are thirty-five medical staff, including two chief physicians and three deputy chief physicians in the department. The department has an area of 1300 square meters, including 44 beds, 10 independent NICU beds and the independent intelligent specialized neurosurgery operating rooms.
Research
In the past five years, our department has undertaken two National Natural Science Foundation of China projects, two Natural Science Foundation of Tianjin projects, one National Cancer Clinical Center cultivation project, and three clinical trials of glioma and brain metastasis projects. Dozens of SCI papers have been published in our department. Furthermore, our department pays great attention to the international cooperation. Lots of key members in the department have been dispatched to visit and study in internationally renowned organizations such as South Korea's National Cancer Center, Seoul University Medical Center, Shinshu University of Japan, and Osaka City University. We also have invitedまつの あきら, director of neurosurgery department and vice president of Teikyo University Hospital, as a guest professor in our department. After years of efforts, our department has developed into a comprehensive department integrating medical, teaching and scientific research, and has a high academic influence in the field of brain tumor treatment in China. Thus, numerous neuro-oncology doctors from all over the country come to our department for further study.
Clinical Service
Adhering to the "professional, dedicated, skilled, accurate" spirit of our department, the professional and moral medical team composed with Wenliang Li, Xiaoguang Wang, Peng Wang, Yingzhe Piao, Peng Li, and other young and middle-aged experts, has made a great breakthrough in the aspects of difficult nervous system tumor surgery including the brainstem tumor, obliquity and foramen magnum of occipital tumor, high neck section of intramedullary tumor, complex skull base tumor, intracranial and extracranial communication tumor, and so on. Our department takes the lead in China to successfully cure more than 100 cases of deep tumors such as thalamus tumor and brain stem tumor with Cyberknife, and has been approved as the designated training center by the National Health and Family Planning Commission of the People's Republic of China. Nearly 500 cases of sellar region and skull base tumors have been successfully excised with neuroendoscopy in our department. With the promotion of the concept of "Precision Neurosurgery", our department has introduced lots of advanced technologies such as intraoperative nerve electrophysiological monitoring, intraoperative immunofluorescence, intraoperative arousal, intraoperative navigation, intraoperative b-mode ultrasound and functional magnetic resonance, which play great roles in the resection of brain functional area tumors.