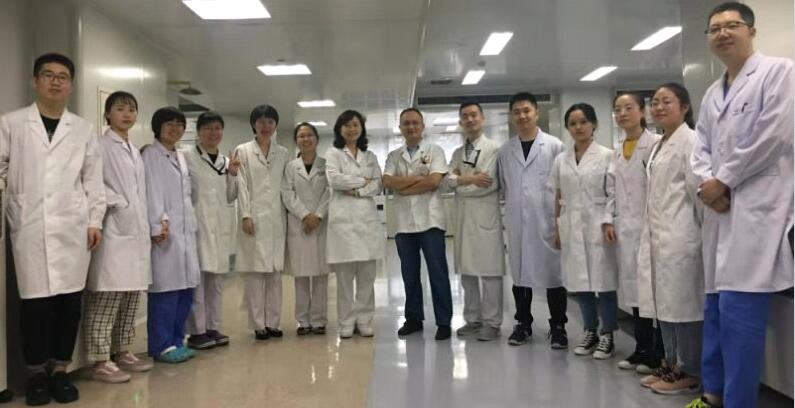 General Introduction
The Blood Transfusion Department of Tianjin Medical University Cancer Institute & Hospital was established in 1951 as a branch of hospital's Clinical Laboratory Department. With the rapid development of our hospital, the Blood Transfusion Department was spun off and became an independent comprehensive department focusing on safe blood storage and supply, routine compatibility testing, blood distribution optimization and transfusion-related research and teaching.
The department has first-class operating standards and procedures and is fully equipped with advanced instruments to meet a variety of clinical needs.
Our team's mission is "Patient Oriented, Safety First".
Research & Teaching
In recent years, our team has either hosted or participated in a number of research projects, receiving some awards in science and technology in the process. At the same time, we oversee teaching for postgraduates in Tianjin Medical University and pathologists in our hospital. We also provide instructions in operating skills and academic paper writing for the undergraduates from the Tianjin Medical University and the Shanxi Medical University.
We sincerely hope to develop a cooperative relationship with both domestic and overseas colleagues.
Clinical Services
The Blood Transfusion Department takes charge of routine compatibility testing, including blood typing, irregular antibody screening and blood cross matching, and clinical blood transfusion management for more than 2100 beds in our hospital. We provide 24-hour transfusion service for approximately 100,000 inpatients, 1 million outpatients and 30,000 cases of major operations per year. In addition, we support the transfusion needs of many specialty services, including but not limited to, therapeutic plasmapheresis and stem cell collection.
The Blood Transfusion Department attaches great importance to promoting scientifically sound and reasonable methods of blood transfusion, such as blood component transfusion, to reduce adverse reactions. In our hospital, the volume of suspended red blood cells, (fresh) frozen plasma and platelet pheresis reaches almost 14,000 units, 1.3 million milliliters and 4,000 units respectively annually.
What do we require from clinicians?
ü Patient clinical details and presentation.
ü Up to date blood results.
ü Transfusion history and any adverse events.
ü Drug history and dosage.
What we can provide to the clinic:
ü Patient blood products.
ü Alternative options for treatment.
ü Decision making assistance for blood products that will be most effective in providing the desired outcomes.