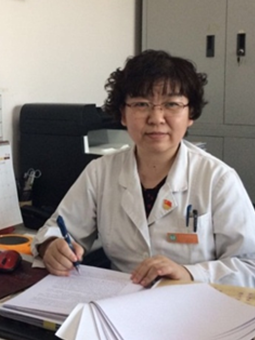 Professor Ruifang Niu
Deputy Director, TCI ; Chair, Department of Core Laboratory
1982.9~1986.7 Bachelor in Biochemistry , Nankai University
1986.9~1989.7 Master in Biochemistry, Nankai University
2008.9~2012.5 Ph.D. in Biomedical Engineering, Tianjin University
Professional Experiences
1989.08~1991.09 Research Assistant ,Tianjin Cancer Institute, Tianjin Medical University Cancer Institute & Hospital
1991.10~1995.09 Research Associate, Tianjin Cancer Institute, Tianjin Medical University Cancer Institute & Hospital
1995.10~2003.11 Associate Professor, Tianjin Cancer Institute, Tianjin Medical University Cancer Institute & Hospital
2003.12~present Professor, Tianjin Cancer Institute, Tianjin Medical University Cancer Institute & Hospital
2009.04~present Director, Public Laboratory, Tianjin Cancer Institute, Tianjin Medical University Cancer Institute & Hospital
2012.10~present Deputy Director, Tianjin Cancer Institute, Tianjin Medical University Cancer Institute & Hospital
Research Focus
(1) Identifying and characterizing the key proteins and molecular networks that implicated in the generation, development and metastasis of malignant tumors by integrating high-throughput proteomic, next-generation sequencing and various molecular biological approaches.
(2) Dissecting the molecular foundations involved in multi-drug resistance tumors. We are dedicated to exploring the molecular mechanisms that contribute to the invasiveness and metastasis of drug-resistance cancers to provide new insights for the treatment of multi-drug resistance tumors.
(3) Investigating the molecular mechanisms and key signaling networks related to the metastasis of cancer cells to provide new targets for the treatment of metastatic tumors. Our goal is to deeply analyze the molecular nature of key signaling hubs, kinases, receptors, and transcriptional factors which drive the metastasis of tumors to provide valuable information for developing new therapeutic strategies.
Research Publications
1. Zhao YY, Ma J, Fan YL, Wang ZY, Tian R, Ji W, Zhang F, Niu RF, TGF-beta transactivates EGFR and facilitates breast cancer migration and invasion through canonical Smad3 and ERK/Sp1 signaling pathways. Molecular oncology, 2018, 12(3):305-321. PMID: 29215776.https://febs.onlinelibrary.wiley.com/doi/full/10.1002/1878-0261.12162
2. Yuan J, Yang Y, Gao ZC, Wang ZY, Ji W, Song WJ, Zhang F, Niu RF, Tyr23 phosphorylation of Anxa2 enhances STAT3 activation and promotes proliferation and invasion of breast cancer cells. Breast Cancer Res Treat, 2017, 164(2):327-340. PMID: 28470457.https://link.springer.com/article/10.1007%2Fs10549-017-4271-
3. Sun X, Zhang J, Wang ZY, Ji W, Tian R, Zhang F, Niu RF, Shp2 Plays a Critical Role in IL-6-Induced EMT in Breast Cancer Cells. Int J Mol Sci, 2017 Feb 13; 18(2):E395. PMID: 28208810.https://www.mdpi.com/1422-0067/18/2/395
4. Yan Y, Wu N, Wang ZY, Zhang F, Tian R, Ji W, Ren XB, Niu RF, Rack1 Mediates the Interaction of P-Glycoprotein with Anxa2 and Regulates Migration and Invasion of Multidrug-Resistant Breast Cancer Cells. Int J Mol Sci, 2016 Oct 13; 17(10):E1718. PMID: 27754360.https://www.mdpi.com/1422-0067/17/10/1718
5. Zhang J, Zhang F, Niu RF, Functions of Shp2 in cancer. J Cell Mol Med, 2015,19(9):2075-2083. PMID: 26088100.http://europepmc.org/articles/PMC4568912/
6. Zhang F, Wang ZY, Yuan J, Wei XY, Tian R, Niu RF, RNAi-mediated silencing of Anxa2 inhibits breast cancer cell proliferation by downregulating cyclin D1 in STAT3-dependent pathway. Breast Cancer Res Treat, 2015, 153(2):263-275. PMID: 26253946.https://link.springer.com/article/10.1007%2Fs10549-015-3529-6
7. Zhang F, Wang ZY, Fan YL, Xu Q, Ji W, Tian R, Niu RF, Elevated STAT3 Signaling-Mediated Upregulation of MMP-2/9 Confers Enhanced Invasion Ability in Multidrug-Resistant Breast Cancer Cells. Int J Mol Sci, 2015,16(10):24772-24790. PMID: 26501276.https://www.mdpi.com/1422-0067/16/10/24772
8. Zhang F, Liu, Y, Wang ZY, Sun XM, Yuan J, Wang T, Tian R, Ji W, Yu M, Zhao YY, Niu, RF, A novel Anxa2-interacting protein Ebp1 inhibits cancer proliferation and invasion by suppressing Anxa2 protein level. Mol Cell Endocrinol, 2015, 411:75-85. PMID: 25917452.https://linkinghub.elsevier.com/retrieve/pii/S0303720715002002
9. Zhang F, Zhang HC, Wang ZY, Yu M, Tian R, Ji W, Yang Y, Niu RF, P-glycoprotein associates with Anxa2 and promotes invasion in multidrug resistant breast cancer cells. Biochem Pharmacol, 2014, 87(2):292-302. PMID: 24239898.https://linkinghub.elsevier.com/retrieve/pii/S0006295213007181
10. Wu B, Zhang F, Yu M, Zhao P,Q Ji W, Zhang HC, Han JH, Niu RF, Up-regulation of Anxa2 gene promotes proliferation and invasion of breast cancer MCF-7 cells. Cell proliferation, 2012, 45(3):189-198. PMID: 22452352.https://onlinelibrary.wiley.com/doi/full/10.1111/j.1365-2184.2012.00820.x