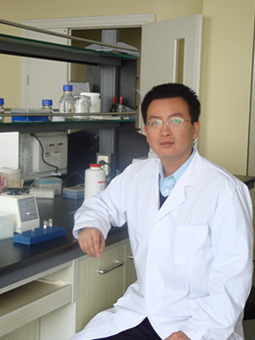 Prof. Ning Zhang, Ph.D.
Department of Cancer Cell Biology
Education
1988.09~1991.07 Department of Chemistry, Beking University
1991.09~1993.07 B.S., Chemistry, The University of Georgia
1993.09~1995.07 M.S., Biochemistry and Molecular Biology, The University of Georgia
1995.09~2001.07 Ph.D., The BCMB program, The Johns Hopkins University, School of Medicine
2001.08~2003.09 Cancer Research Training Award (CRTA) Fellow, Laboratory of Molecular Immunoregulation, National Cancer Institute, Frederick, MD. Supervisor: Dr. J. Oppenheim
2003.10~2005.07 Associate Professor, Department of Biochemistry, Peking University
2005.08~2007.12 Assistant Professor, Department of Biological Sciences, Oakland University
2007.07~2008.04 Professor, Medical University Cancer Institute and Hospital, Tianjin Medical University
2008.05~2017.09 Professor, Research Center for Basic Medical Sciences, and Tianjin Medical University Cancer Institute and Hospita, Tianjin Medical University
2010.01~2017.09 Professor, Vice-president of Tianjin Medical University
2017.10~present Professor, Vice-president of Peking University Health Science Center, PI of Tianjin Medical University Cancer Institute and Hospital
2019.07~present Director of the Office of Scientific Research, Peking University
Research Focus
Professor Zhang is engaged in biomedical and cell biology research for a long period of time. His research works focus on cancer metastasis and made a series of achievements based on mechanism research, biomarker identification, drug screening, molecular genetics, and nanotechnology.
He discovered the functions and mechanisms of a series of signal molecules such as PKCζ, PDK1, Akt2, Rictor, ELMO1, Txnl2, and revealed a signal transduction pathway that regulates chemotactic movement of cancer cells. He also applied nanotechnology in the diagnosis and treatment of cancer, established new tumor detection methods and constructed new nanomaterials. In the field of tumor genetics research, he revealed the genomic map and clonal evolution relationship among different lesions of hepatocellular carcinoma, which provided evidence for the diagnosis, treatment, prognosis and micro-metastasis mechanism of liver cancer. Combining single-cell capture and single-cell genomics technology, he demonstrated that CTC CNV are cancer-specific and revealed a continuous evolutionary process of CNV in orthotopic tumor cells.
In the past five years, his team published 49 papers in SCI journals. As the project supervisors, he acquired research fundings from Chinese 973 program, 863 program, Chinese National Science Foundation Grant, Tianjin Commission of Science and Technology and some other programs.
Selected Publications
1. Xu R#, Chen L#, Zhang C#, Fujita M#, Li R, Yan S, Ong CK, Liao X, Gao Q, Sasagawa S, Li Y, Wang J, Guo H, Huang Q, Zhong Q, Tan J, Qi L, Gong W, Hong Z, Li M, Zhao J, Peng T, Lu Y, Lim KHT, Boot A, Ohno A, Chayama K, Zhang Z, Steve George Rozen, Bin Tean Teh, Wang X, Nakagawa H*, Zeng M*, Bai F*, Zhang N*. Genomic and transcriptomic profiling of combined hepatocellular and intrahepatic cholangiocarcinoma reveals distinct molecular subtypes. Cancer Cell. 2019 Jun10;35(6):932947.e8.https://linkinghub.elsevier.com/retrieve/pii/S1535610819302028
2. Zhou P#, Qin J#, Zhou C, Wan G, Liu Y, Zhang M, Yang X, Zhang N*, Wang Y*. Multifunctional nanoparticles based on a polymeric copper chelator for combination treatment of metastatic breast cancer. Biomaterials. 2019 Mar;195:86-99. PMID: 30623789.https://www.sciencedirect.com/science/article/pii/S0142961219300079?via%3Dihub
3. Liu Y, Zhang X, Yang B, Zhuang H, Guo H, Wei W, Li Y, Chen R, Li Y *, Zhang N*. Demethylation-induced overexpression of Shc3 drives c-Raf-independent activation of MEK/ERK in HCC. Cancer Research. 2018 May 1;78(9):2219-2232. PMID: 29330146.https://cancerres.aacrjournals.org/content/78/9/2219
4. Jing R, Zhou X, Zhao J, Wei Y, Zuo B, You A, Rao Q, Gao X, Yang R, Chen L, Lu Z, Zhou Q, Zhang N*, Yin H*. Fluorescent peptide highlights micronodules in murine hepatocellular carcinoma models and human in vitro. Hepatology. 2018 Oct;68(4):1391-1411. PMID: 29405333.https://aasldpubs.onlinelibrary.wiley.com/doi/full/10.1002/hep.29829
5. Chen R#, Liu Y#, Zhuang H#, Yang B, Hei K, Xiao M, Hou C, Gao H, Zhang X, Jia C, Li L, Li Y*, Zhang N*. Quantitative proteomics reveals that long non-coding RNA MALAT1 interacts with DBC1 to regulate p53 acetylation. Nucleic Acids Research. 2017 Sep 29;45(17):9947-9959. PMID: 28973437.https://academic.oup.com/nar/article/45/17/9947/3950330
6. Gao Y#, Ni X#, Guo H#, Su Z#, Ba Y#, Tong Z, Guo Z, Yao X, Chen X, Yin J, Yan Z, Guo L, Liu Y, Bai F*, Xie XS*, Zhang N*. Single-cell sequencing deciphers a convergent evolution of copy number alterations from primary to circulating tumour cells. Genome Research. 2017 Aug;27(8):1312-1322. PMID: 28487279.https://genome.cshlp.org/content/27/8/1312
7. Yang Liu#, Guoyun Wan#, Hua Guo, Yuanyuan Liu, Ping Zhou, Hemei Wang, Dan Wang, Sipei Zhang, Yinsong Wang*, Ning Zhang*. A multifunctional nanoparticle system combines sonodynamic therapy and chemotherapy to treat hepatocellular carcinoma. Nano Research. 2017 Mar;10(3):834-855. http://xueshu.baidu.com/usercenter/paper/show?paperid=2539c206e965a447bc6fbd545cf1c415&site=xueshu_se
8. Xue R
#
, Li R
#
, Guo H
#
, Guo L
#
, Su Z, Ni X, Qi L, Zhang T, Li Q, Zhang Z, Xie XS, Bai F*, Zhang N*. Variable intra-tumor genomic heterogeneity of multiple lesions in patients with hepatocellular carcinoma.
Gastroenterology
. 2016 Apr;150(4):998-1008. PMID:26752112.
https://www.sciencedirect.com/science/article/pii/S0016508515018612?via%3Dihub
9. Ren Y#, Wang R#, Gao L#, Li K, Zhou X, Guo H, Liu C, Han D, Tian J, Ye Q, Hu YT, Sun D, Yuan X*, Zhang N*. Sequential co-delivery of miR-21 inhibitor followed by burst release doxorubicin using NIR-responsive hollow gold nanoparticle to enhance anticancer efficacy. Journal of Controlled Release. 2016 Mar 5;228:74-86. PMID: 26956593.https://www.sciencedirect.com/science/article/pii/S0168365916301328?via%3Dihub
10. Ren Y, Wang R, Liu Y, Guo H, Zhou X, Yuan X, Liu C, Tian J, Yin H, Wang Y*, Zhang N*. A hematoporphyrin-based delivery system for drug resistance reversal and tumor ablation. Biomaterials. 2014 Mar;35(8):2462-70. PMID: 24373420.https://www.sciencedirect.com/science/article/pii/S0142961213014737?via%3Dihub