The psychological support team of Tianjin medical university cancer hospital was established in 2008, and was made up of more than 30 psychological nurses with different departments. Their main task is listening to the patients' ideas to help patients alleviate psychological pressure .
Memberships
There were 7 nurses had been possessed the quality of national psychological consultant , including four national second-level psychological consultants and three national three-level psychological consultants. From a professional perspective, we also reduced the membership of the psychological support group to 7 qualified nurses .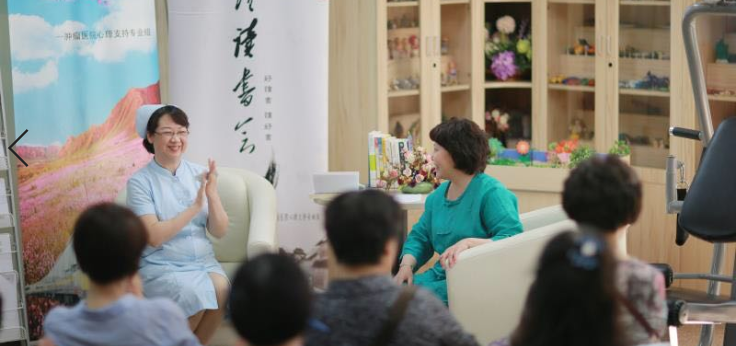 Activities and achievements
In order to improve the professional level of the team and provide more professional psychological support for patients, we participated in the training of psychological consultants actively, and we began use a doctor's office as our psychological counseling room once a week in the afternoon to hold the free psychological counseling, so that we could help the visitors and publicize the importance of psychology. We also made use of various opportunities to organize a variety of activities to make people concern the mental health of cancer patients. The leaders of hospital assigned a consulting room to us in 2012 in the help of nursing department and our unremitting efforts, and since then we had a real psychological clinic. During this period, we formulated a series of rules and regulations, such as the system of psychological diagnosis and treatment , the system of psychological consultation, the system of difficult case discussion, the system of psychological outpatient appointment and the process of psychological diagnosis and treatment to make the service of the psychological clinic more standardized. With the expansion of publicity, many medical staff, patients and their family members paid attention to psychology and increased the demand of psychological counseling. In 2017, a two-month training course for psychological consultants was held in our hospital, and more than 100 nurses actively signed up for the training and national examinations. 13 nurses with national psychological consultant passed the interview and written examination, who were selected as the member of professional support team. The psychological support group consisted of 20 nurses finally.
Psychological professional group carry out many projects , including one-to-one counseling, family counseling, psychological consultation, group therapy, workshops, free diagnosis, community counseling, MDT with our hospital, difficult case discussion. , The psychological professional team hold various activities every year to promote mental health f or these projects. From 2010 to 2012, we have carried out a series of activities of "the gas station of family members".
In 2010, The subject of activity was "holding hands with you and walking with you". We taught the family members of breast cancer patients how to scrapping , massage and accompany patients with rehabilitation training at home, and awarded certificates for model family members as an encouragement. The family members said that they benefited a lot unanimously. .
In 2011, the subject was "good nutrition, good mood, I'm the best at health", we carried out the "Nutrition food court", produced more than 30 varieties of herbal cuisine for tumor patients who was accepted surgery or chemotherapy with loss of appetite, nausea and vomiting, a large number of patients and their family members were attracted by the activity. And we distributed a thousand publicity materials.
In 2012, the subject was "walking with love, recovery for love", we organized fraternity with 6 pairs of tumor patients and their spouses to help them regain conjugal love and fight against diseases .The activity place was located in the coffee shop of our hospital, which was not only warm and romantic, but also provided refreshments and gifts for them. First, we asked the family members and patients exchange experience with each other, then each pair of husband and wife was asked to make color clay to express their hope. we not only received good results, but also laid a good foundation for our future psychological workshops by carrying out the activity.
In 2013, the psychological professional team established a mutual assistance and friendly relationship with the committee of Huanhunanli, and held mental health lectures to the community for three times. We not only helped cancer patients ,but also publicized the importance of mental health.
In 2014, the activity of "scanning code to join the chicken soup for the soul" was held for all the nurses in our hospital. The psychological professional team of nurses weekly gave nurses chicken soup for the soul through WeChat.
In 2015, We carried out the "mindfulness workshop" for nurses.
In 2016, "psychological express" was carried out in the hospital for patients, family members and nurses to solve their psychological problems in the form of group therapy.
We organized a "psychological reading party" for patients and their family members on the international Nurses Day in 2017. We discussed "the meaning of life" through a letter written by a daughter to the sick mother and the diary of a deceased cancer patient,which was deeply welcomed by everyone.
We organized a "music workshop" for patients and their family members on the international Nurses Day in 2018, which was popular for its novel form and high interaction.
Since its establishment, the psychological professional team has received more than 4000 people for various consultations, 50 times for consultation, 40 times for group treatment, 12 times for MDT and difficult case discussion, 26 times for free diagnosis, and 10 times for community publicity. We also published more than 20 articles related to psychology. And we was awarded as "excellent professional team" by the nursing department for two times.
The psychological professional team provide psychological support services for cancer patients, their family members and clinical medical staff , alleviate their psychological pressure. Meanwhile, the psychological professional team provides a professional development platform for clinical nurses. With the development of medical and new nursing mode, and the demand of humanistic care, the work of nurses is no longer injection, dispense the medicine to the patient, they can choose the direction of future development according to their own speciality. The psychological professional team provides chances for nurses with psychological expertise to exercise themselves, show their ability and realize their own value.