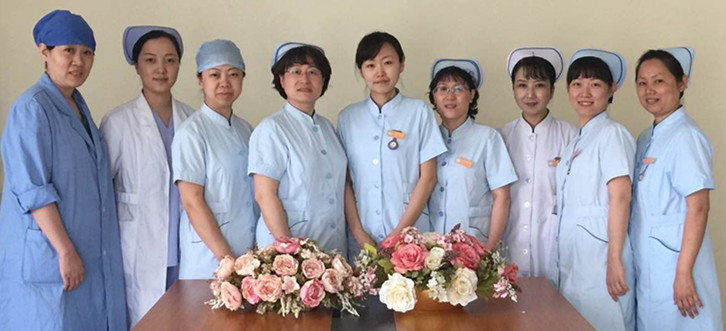 To improve the overall level of intensive care skills of oncology nurses and as well to increase the quality of intensive care aimed for cancer patients, the Intensive Care Group was established on April 16, 2009 with the strong support from Nursing Department. The responsibility of this group is to strengthen nurses' intensive care ability and to standardize the management of intensive care.
Memberships
This group is under the leadership of Head Nurse Fengqi Dong, and its eight key members are head nurses from Intensive Care Unit, Emergency Department and Lung Cancer Department and also two nursing postgraduates from Evidence-based Scientific Research Group. All the members have bachelor's degree and some of them have master degree. 37 professional nurses received training and were awarded "critical emergency nurses" certification, and they were included into the hospital's Emergency First Aid Talent Pool and get ready for dealing with huge emergency events. The group was awarded excellent professional group by Nursing Department, and has received unanimous praise from colleagues.
Activities and achievements
There have been more than 40 trainings on knowledge and skills related to emergency treatment for intensive patients with the mode of doctor-nurse cooperation to share a topic from different aspect, and providing patients with the best consistent medical services. The professional group has conducted two trainings in theory and clinical practice for intensive emergency trainees. The intensive care group implemented professional training on catheter-related nursing for unplanned detachment, standardized catheter fixation methods within the hospital; organized first-aid skills competition for nursing staff; standardized the transfer process of intensive patients in hospital; standardized the records of intensive care and central venous catheterization; conducted consultation and cases discussion of intensive patients in hospital, launched the project of "improving the ability of nurses' observation; focused on the problem of hospital-acquired pneumonia and conducted the project of reducing the incidence of hospital-acquired pneumonia. For better adapting to the development of modern intensive care medicine, the intensive care group also provides continuing education opportunities for members through various platforms, encourages them to learn advanced nursing concepts and new technologies.
This group upholds the belief that "process effects result, details determine all", and it always persists on exploring intensive care specialty with great effort. It focuses on the hotspot problems in clinical practice, emphasizing professional specialties, expanding knowledge and skills to nurses from our hospital, and most importantly, promoting the intensive care quality.