General Introduction
The Department of Interventional Therapy and Oncology, Tumor Hospital of Tianjin Medical University, was formally established by Professor Guo Zhi, the subject leader, on the basis of the former Interventional Group of Radiology Department in June 2001, as a first-class clinical department. There are now one professor, three chief physicians, five vice-chief physicians, four chief and resident physicians, one doctoral supervisor and three master's supervisors. As early as 2003, Argon-Helium cryotherapy system was first introduced in China, and the first Argon-Helium cryotherapy research and training center was set up. It has promoted the development of cryoablation technology in more than 10 units in the country, and played an important role in promoting the progress and development of cryoablation technology. At the same time, the subject takes the lead in developing the technology of bone cement implantation for the treatment of vertebral metastases, the diagnosis and treatment of various solid malignant tumors and common benign tumors, as well as the establishment of a new type of tumor embolic agent and a comprehensive platform for tumor ablation therapy.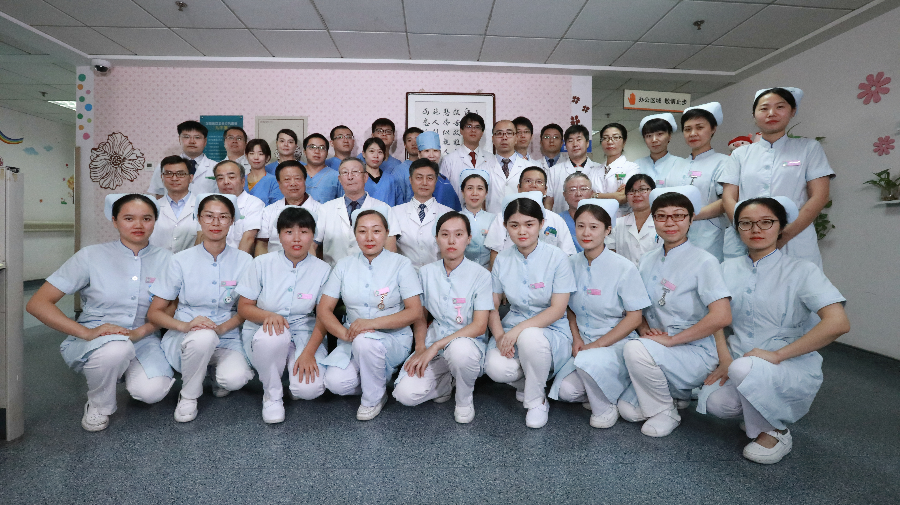 Interventional therapy ward was established earlier in China, with 69 beds open; independent interventional therapy professional outpatient service; interventional operation room has a building area of 3000 square meters, with 8 interventional operation rooms, with 2 DSA machines, 2 CT machines, 3 Argon-Helium cryogenic cryogenic system, 2 sea-level knives, 2 large-scale ultrasound machines. 5610 interventional operations were completed in 2018.
The discipline undertakes 2 projects of the National Science and Technology Support Plan, 4 projects of the National Natural Science Fund, 1 project of the 12th Five-Year Plan of the Major Science and Technology New Drug Creation, 2 projects of the Major Anti-cancer Major Special Tackling Plan of Tianjin, 1 key project of applied basic research in Tianjin, 2 projects funded by the Tianjin Natural Science Foundation, and Wu Jieping Medical Science. The Foundation's two projects of special fund for clinical research and four projects of scientific research fund of Tianjin Health Bureau, presided over five research projects of multi-center clinical registration experiments, and successively won five provincial first, second and third prizes for scientific and technological achievements. More than 130 papers were published in domestic core journals, more than 40 papers were included in SCI, 5 monographs were edited and 8 monographs were co-edited. Department. We have trained 18 doctoral students and more than 50 master students.
Scope of diagnosis and treatment
1. Solid malignant tumors, such as liver cancer, lung cancer, prostate cancer, liver metastasis, lung metastasis, bile duct cancer, pancreatic cancer, kidney cancer, gynecological tumors, soft tissue sarcoma, etc., are treated with interventional therapy.
2. Treatment of complications of tumors: hemoptysis, hematemesis, urinary hemorrhage, embolization and hemostasis of gynecological tumors; thrombolysis and filter placement of lower extremity venous thrombosis; comprehensive treatment of tumors complicated with vascular stenosis, biliary obstruction, esophageal stenosis, airway stenosis, ureteral stenosis, gastrointestinal obstruction, esophago-tracheal fistula Therapy, etc.
3. Tumor adjuvant therapy, such as preoperative vascular embolization and balloon embolization, assisting in the diagnosis of related diseases, such as puncture biopsy of lesions in various locations, golden mark positioning of radio knife, preoperative guide wire positioning of pulmonary nodules, and intravenous chemotherapy pump implantation.
4. Treatment of benign tumors and lesions: such as hepatic hemangioma, hysteromyoma, adenomyosis, hepatic and renal cysts, and interventional treatment of vascular malformations (hemangioma, arteriovenous fistula) in various parts.
Specialist Characteristics
The discipline has outstanding characteristics in the treatment of benign and malignant tumors and their complications. The concept of treatment is "single disease, multi-disciplinary, multi-technical methods for comprehensive treatment of tumors", and the development goal is "minimally invasive, efficient and low toxicity". Ultrasound-guided percutaneous puncture of hepatic and renal cysts with drug inactivation is effective in the treatment of benign tumors such as liver and limb hemangioma, uterine myoma and adenomyosis. Selective arterial chemoembolization combined with cryosurgery targeting therapy of argon-helium knife was used to treat primary and secondary malignant tumors of head and neck, chest, abdomen, pelvis and extremities. For the complications caused by benign and malignant tumors, such as tracheal stenosis, tracheoesophageal fistula, tracheobronchial fistula, esophageal stenosis, duodenal stenosis, obstructive jaundice, superior vena cava syndrome, Budd-Chiari syndrome (inferior vena cava obstruction syndrome), gastrointestinal bleeding, portal hypertension, hepatic artery and portal fistula, deep static lower extremity. The palliative interventional therapy is effective in treating thrombosis, rupture and hemorrhage of tumors, and metastasis of spine caused by malignant tumors.
Outstanding achievements and important innovations
Argon-helium cryotherapy combined with interventional therapy for chemoradiotherapy-insensitive solid mesenchymal tumors, Argon-Helium cryotherapy for early prostate cancer and hormone-independent prostate cancer of stage T3/T4, the relationship between the load of malignant tumors and the immune function of host cells, the immune response after Argon-Helium cryotherapy for localized prostate cancer and cancer vaccine Basic research, preparation and clinical application of new tumor embolic agents, etc.